Registration

(only $79 / year per property, get started now!)
BOTH HOMES

FOR RENT and VACATION RENTALS - ALL TARGETED AT WINTERTIME VISITORS!!!

Become a Member of the fastest growing Community of Owners who advertise Snowbird properties - both vacation rentals (short-term) or long-term rentals. Whether the potential tenant is looking for a place to live or just a place to visit, we're geared toward Wintertime vacationers and their needs - this very passionate and growing segment of the population has now found a one-stop shop for their dwelling needs.

Get your rental recognized and start getting rental leads today.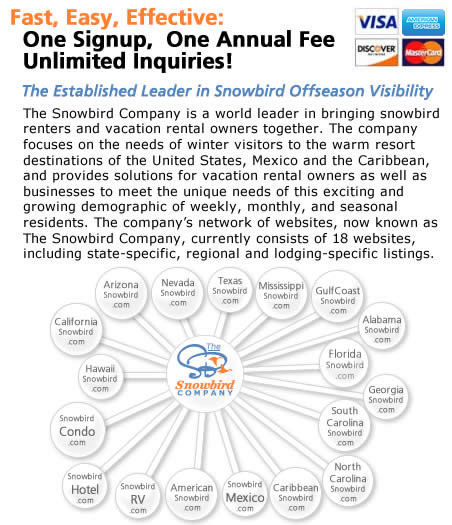 Using our Network of internet advertising, you can start generating rental income from your Vacation Rental by showing your property to Millions of potential clients. By creating an account and entering your property details, you can get your rental out there for renters to see.

Post Once - Display MANY!

Multiple Websites of Rental Exposure - only ONE Log-in
You read it right: your Rental will be displayed on all of the Websites in our Snowbird network, but you only have one log-in page, so gaining visibility has never been easier. Each time you update a price, picture, or any descriptions, hit 'Submit' and that update goes 'LIVE' on all of our different websites!

That's right, we're not only FAR LESS EXPENSIVE than many websites you may compared, we're also FREE on every website past the first (pay for one ad, get multiple websites of additional exposure entirely FREE)

Compare our Value to that of our competition. We can give you significant exposure to millions of potential clients for a fraction of the cost of other rental advertising companies. Register with us and see the difference for yourself. Registration is quick and easy - and will allow you to Advertise your vacation property on our network of sites. Begin earning income on your property NOW!